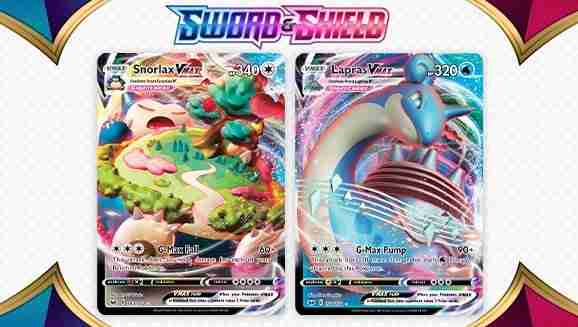 Pokemon has just announced the release date for the next expansion in the Pokemon TCG!
Aptly titled "Sword and shield" these cards will be standard legal with the website reporting over 200 new cards making it a comparatively large expansion. They are set to be released in February 2020.
In the new set we will be introduced to the vibrant Pokemon of the Galar region, Pokemon such as Scorbunny, Intellion and Rillaboom will be making their debut on the scene.
We will also be seeing the introduction of a new card type the "V-cards" although we don't really know what they are they look ready to start shaking up the game a little more with Zacian V and Zamazenta V who both look like they'll be bringing some new twists to the game.

Expanding on the V-cards. Quite literally, is the announcement of V-max cards and they look insane.
The two cards revealed boasting the largest health totals we've seen in game to date. Sone interesting information we can glean off of these cards are that:
These guys are huge and are very clearly designed to simulate the videogame experience.
They are in fact, evolution cards which gives us a degree of insight into how they are going to be played which is important. While also directly confirming both Snorlax V and Lapras V as cards in the print run.
They award the same amount of prize cards as a tag team GX.
Some thing interesting to take of is that both cards only seem to be packing one attack each and no abilities. It calls to question if that's a question of the design style. To stop them from being too powerful or whether these cards are still slightly censored like Zacian and Zamazenta were a couple months ago. What do you think?