Don't miss out on some Pre-order specials, or pay more for standard copies!
Prices are in AUD and are from Australian Stores.
First up we have the BIG daddy. The first ever double pack!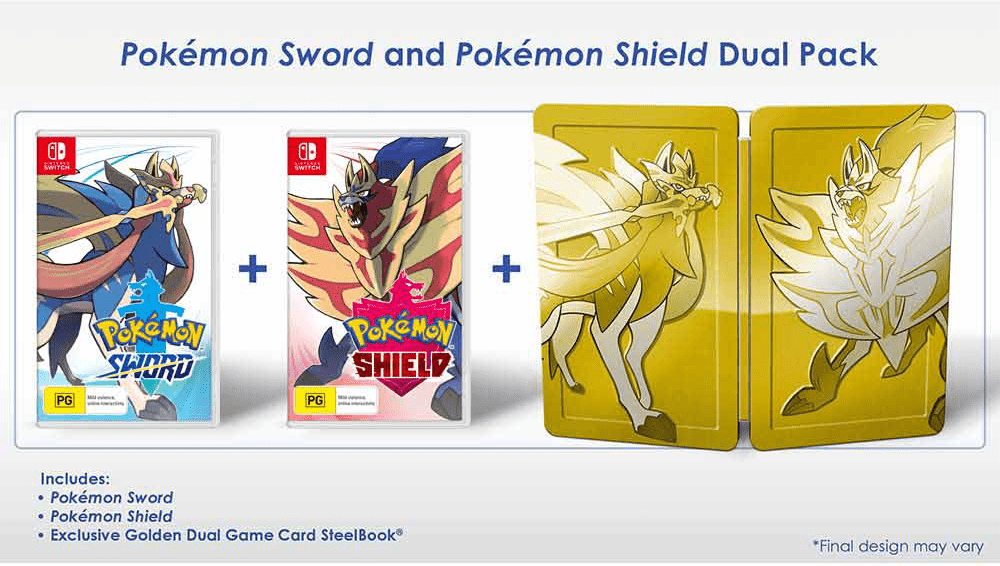 Finally if you can't decide or your a collector like me, they have solved our problem. Both game carts will come in a Limited Edition Golden Steelbook. This year GameTraders Modbury Heights takes the win for the cheapest price.
The Dual Pack can be Pre-ordered from EB Games for $159.95, Jb Hifi for $159.00, BigW for $149.00 or GameTraders Modbury Heights for $129.99
Single Games with Pre-Order Bonus!
If you Pre-Order Sword or Shield at EB Games you will receive an Exclusive steelbook, with the theme of the Legendary Pokemon in your game. It does cost $10 more than the standard but personally I think $10 for a steelbook is pretty good.
Pre-Order at EB Games for $79.95
Standard Single Game
Just want the game? Or the cheapest price? Then the standard is for you. No need to even Pre-order.
JB Hifi for $69, BigW for $69 or Gametraders Modbury Heights for $65
If there are anymore special editions or Pre-order giftys I will update the article 🙂