During the Korea Champion Invitational 2020 Broadcast, they announced new event Pokémon distributions!
We all know the movie was released over a year ago in Japan, but it is now being re-released in Korea. Mewtwo Strikes Back Evolution will premier on September 30th this year. To celebrate the movie, there is two downloadable event Pokemon. And boy they are good ones!
First up we have Ash's Charizard.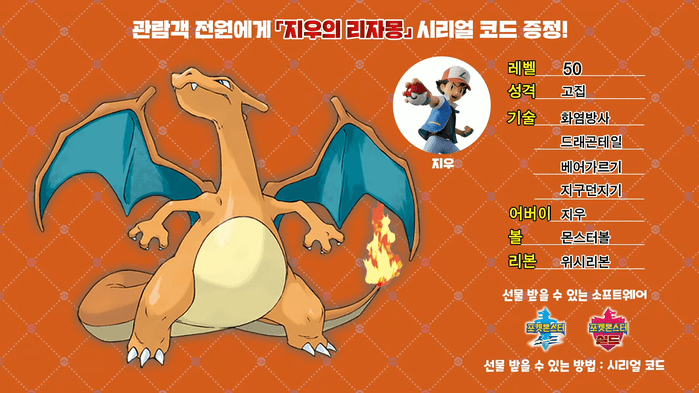 Ash's Charizard will be available for people who have a copy of Pokemon Sword or Shield. He will come at Level 50 with the following moves Flamethrower, Dragon Tail, Slash and Seismic Toss.
Next up we have Mewtwo
Mewtwo will be avilable for people who have a copy of Let's Go Eevee and Let's Go Pikachu. He will come at level 70 with the following moves Psychic, Shadow Ball, Barrier and Calm Mind. This Mewtwo is the same as the special event Mewtwo distributed in Japan last year.
Sadly both codes are only given out to the people who see the movie in Korea. Hopefully some people are willing to share their codes, if they don't own any of the games, cause boy I'd love to add a Mewtwo to my party.