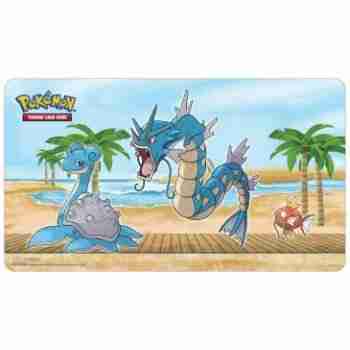 Ultra Pro are have just recently revealed their new up coming release of Pokémon TCG accessories and the theme will be 'Seaside' featuring Gyarados and Lapras and Magiakrp in a beach background. The image at the top is the rubber playmat that will be released and I personally love it and want one.
Here's what the line up will be!
A rubber playmat for $20.99
A plastic deck box for $2.99
A premium alcove deck box for $24.99
A set of 65 card sleeves for $7.49
A 4-pocket porfolio for $7.99
(10 pages + 2 jumbo card pages)A 9-pocket porfolio for $10.49
(10 pages)A premium 9-pocket PRO binder for $24.99
(20 pages)A 2″ D-Ring binder for $14.49
Keeping in mind these are USD prices not AUD.
Here's what they will all look like, I personally really like the artwork. ?
All items are set to be released on the Ultra Pro site and other retailers on the 23rd of April. So we don't have to wait too long at all!